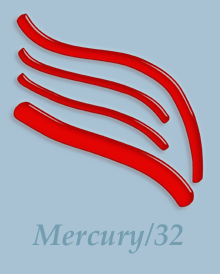 Mercury/32 License Purchase - Step 1
Before we can proceed with issuing your Mercury license, we need to know how you would like to pay for it. There are three options:
PayPal If you have a PayPal account, you can pay us directly from that account.

Credit card We also use PayPal as our credit card processor: you can make payments using any VISA, Mastercard or (depending on your region) AmEx card using PayPal. You do not need to have or create a PayPal account to do this, and your card details are never passed directly to us.
If you pay by PayPal or credit card, your license can typically be issued within 24 hours (we simply need to validate the details you provide, then your license will be sent to you automatically).
On invoice We send you an invoice which you pay as part of your normal credit cycle. On-invoice purchases are available for all license types except the $95 15-user license, which can only be purchased by credit card or PayPal. Invoices can be settled by cheque or by Telegraphic Transfer, although payment by Telegraphic Transfer attracts an automatic $30 fee to cover bank processing charges in transit (click here for more on why we have to charge this fee).
If you opt to pay on invoice, it will take slightly longer (usually 3-6 days) for your license to be issued, because more paperwork and processing is required.
Please indicate the way you would like to pay for your license: